On Sunday, June 30, 2019, season 4 of the popular reality TV show, Big Brother Naija began and Nigerians were excited to see their new housemates. As usual the show was hosted by stylish TV presenter Ebuka Obi-Uchendu, who took his time to formally introduce each of the 20 housemates to viewers at home. The organiser of the show which is tagged Pepper Dem is said to be parting away with N60 million in prizes which will be given to the lucky winner.
However, winning this would not be an easy feat as each housemate has rules governing the house and if carefully followed, would guide each of them till one person emerges as the winner. Unfortunately, Biggie on Sunday, July 7, 2019, had asked two of Big brother Naija housemates, Ike and Omatshola to pack their bags for breaking rules of the house ahead of the first eviction show. But what rule exactly did they break?
The Big Brother Naija house had been in disarray after the Saturday night party. It was the first party for the housemates who were barely one week in the house. It all started when some of the housemates came back from the party to only discover their coins were missing. Omashola had threatened housemates on Saturday night after his 100 coins were no longer in the bible where he kept them. Ike also noticed that his coins were missing and threatened fire and brimstone.
When your Bet9ja Coins get stolen, you have to display a little madness to the rest of your #BBNaija Housemates. Watch Omashola lose his cool over his missing Coins.81610:21 AM – Jul 7, 2019Twitter Ads info and privacy241 people are talking about this
The rule they broke was number 7. However, Big Brother pardoned both housemates from being disqualified as he issued them strikes. They would be disqualified from the 'Pepper Dem' reality show if they received two more strikes. Below are the rules BBNaija organizers expect to govern each housemate and what Omashola and Ike need to hold dear if they want to get to the finale:
OOOO jezzzz…. Biggie just pardoned Ike and Omashola
.
FOLLOW FOR LATEST UPDATES..
. #BBNaijaLaunchParty #bbnaija#BBNaija #bigbrother #BigBrother21 #BBNajia2019#BBNaijaChallenge#BBNaijaUpdates646:37 PM – Jul 7, 201915 people are talking about thisTwitter Ads info and privacy
Rule 1: Housemates must respect the house and their fellow contestants at all times.
Rule 2: The housemates will have no contact with the outside world and they are kept busy by the various tasks and challenges set by Biggie. Being in such close proximity with a house full of strangers can be tough going and he has set rules that need to be followed.
Rule 3: Biggie has complete control over everything going on in the house and never discusses anything that goes on outside of the house with anyone inside.
Rule 4: The housemates are filmed 24/7 and they must have their microphones on at all times. The viewers must be able to hear all conversations at all times and are not allowed to whisper or cover their mouths while speaking to fellow housemates. They are also not allowed to reveal the location of the cameras and microphones.
Rule 5: Diary sessions are one of the most important aspects of the show's success and are compulsory. Once a housemate is called to the diary room, they must drop everything they are doing and proceed to the diary room. Failure to do so will result in a fine, 'a strike' or worse. They can request to enter the diary room at any time of the day or night. Sunglasses and hats are not permitted in the diary room. The door for the diary room will be locked when not in use and no one is allowed into the room if it is occupied.
Omashola has revealed what his strategy is!
Do NOT miss this guy's diary session next time!#BBNaijaPepperDem2629:52 PM – Jul 4, 201995 people are talking about thisTwitter Ads info and privacy
Important to note: Diary sessions and nominations are compulsory and Housemates need to give valid reasons for nominating a fellow housemate. Biggie reserves the right to take his time to answer any questions, but will always return with an answer. Biggie will not entertain any personal questions. What happens in the diary room stays in the Diary Room and they cannot discuss anything that happens in the diary room. Exceptions to this rule are events such as head of house tasks.
#Symplytacha first diary session was short and brief. #bbnaija #bbnaija2019165:30 AM – Jul 6, 2019See THE ANNUNCIATE's other TweetsTwitter Ads info and privacy
Rule 6: Nominations are important and Housemates are not allowed to discuss the reasons for their nominations with anyone other than Biggie. If anyone of them does so, it will be interpreted as a deliberate attempt to influence others. They are not allowed to communicate via hints, signs, symbols or written notes. They are not allowed to enter into any alliance or scheme to plot the downfall of fellow Housemates. Communication in the house in Yoruba, Igbo, Hausa and any other local language other than English is not permitted.
Rule 7: Housemates are not allowed to strike, intimidate, threaten or act in any way that can be construed as violent towards any fellow Housemates. This could result in immediate disqualification. This was the rule Omashola and Ike broke so they'll need to be extremely careful and watch their tempers from now on.
Crisscross Africa@crisscrosafrica
So after the #BBNaijaparty, Ike and Omashola had an altercation over some missing coins. Today, Biggie has set both of them up for strikes and possible eviction.#BBNaija492:47 PM – Jul 7, 2019See Crisscross Africa's other TweetsTwitter Ads info and privacy
Rule 8: Housemates are not allowed to bring the following into the house: – CDs, CD players, radios, iPod, iPad – Walkmans, DVD/Blu-Ray players, televisions – Mobile phones, Smart phones – Computers, Laptops, Notepads – Video game consoles, Computer games – Calendars – Diaries – Pen and paper or any writing materials – Eyeliner (Or any other make-up that could be used for writing.) – Alarm clocks – Watches – Any electronic equipment requiring batteries – Weapons, drugs and narcotics – Medication (except for agreed personal medication in consultation with Big Brother) – Clothes with prominent logos, clothes with fine stripes or dots, silk clothes, solid white clothes.) – Your pet cat and your children (although, you can bring pictures of your children and your cat).
Rule 9: Housemates can bring the following into the House: – Cigarettes / cigars / tobacco – Reading material, either a book or magazine – Moisturising cream – Shaving foam, deodorant, shower lotion, pack of razor blades – Day cream, night cream and eye cream – One cleansing lotion. Cleansing tonic. – Perfume or after shave – Hairspray/ gel hair conditioner and wax – Lip balm – Musical Instrument (provided it doesn't need batteries).
Rule 10: Biggies' word is law and all Housemates must comply with his requests at all times without fail.
Rule 11: Only Biggie can open up the storage room where the Housemates will find everything that they need for Tasks, Challenges etc. He will inform them that the Storage Room is open and the Head of House will proceed there to retrieve what he has put there for them daily and weekly needs.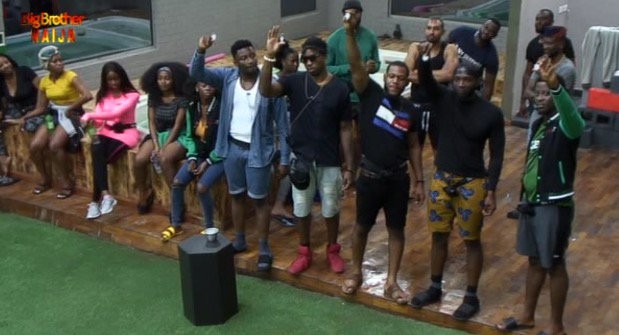 Goodluck! 
Source: dailyadvent